FREE…FREE…FREE…An anthology with two Sam Jenkins selections
I've joined with four accomplished mystery writers to produce an anthology of novelas, novelettes and short stories that will forever be free to our readers.
The writers are: Micheal Maxwell, Kay Hadashi, Jane Carver, Ilil Arbel and yours truly
Find DEATH OF CHOICE, Eight Tales of Murder, Mayhem and Mystery at these booksellers:
Amazon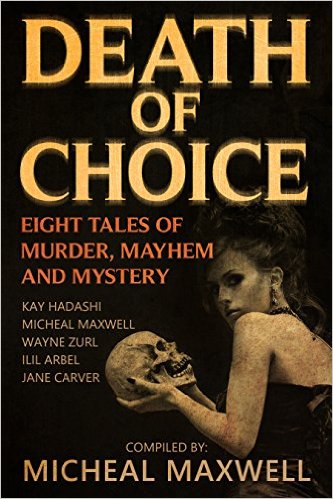 Find Sam Jenkins in the thick of it in the timely novela THE FERGUSON SHOOTING
Jamal Ferguson's mistake costs him his life and forever changes Police Officer Billy Puckett's.
On a cool, damp evening in Prospect, Tennessee, seventeen-year-old Jamal tries to buy beer from a convenience store. When asked for ID, the boy decides to steal the beer and assaults a store employee.
All this was witnessed by Officer Puckett who attempts to arrest Jamal for robbery. Only the big teenager has other ideas. While resisting arrest, Ferguson violently attacks Puckett and tries to take his handgun.
Moments later, unarmed Jamal Ferguson lies dead in the parking lot.
The next day, the community expresses their outrage and a famous activist descends on East Tennessee, declaring that he will help the Ferguson family seek justice for their murdered son.
Not much stands between the angry citizens and Puckett except Police Chief Sam Jenkins.
And in the novelette A FIRE AND OLD ICE. You might think this was an episode of NYPD BLUE written by Woody Allen.
Prospect, Tennessee's mayor, Ronnie Shields, walks into Sam Jenkins' office with his hat in his hand.
Ronnie's wife wants to sponsor a benefit fashion show to raise money for an animal shelter.
They need the chief for two things: Convince his friend, TV reporter, Rachel Williamson, to emcee the show and find amateur models to wear the outfits.
The show begins perfectly, until someone sets fire to the spring collection of a flamboyant Knoxville designer named Mr. Alex.
Jenkins' arson investigation puts him up against a trio of redneck troublemakers and takes him back seventy years to Europe and a closely guarded family secret.