The Butlers Did It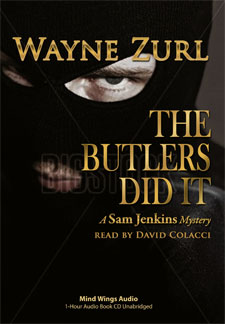 Things started out innocently enough. Sam Jenkins and Bettye Lambert used a little police department time to go Christmas shopping. When three gunmen robbed the Prospect Citizen's Bank and Trust across the street from where they sat in a parked car, Sam killed one bandit and wounded another, but the third got away.
Teamed with FBI Special Agent Ralph Oliveri, Jenkins pursues leads that take them from the Smoky Mountains to middle Tennessee and then to the coal country of southeast Kentucky where two local detectives help corner the escaped felon and a pair of colorful accomplices.
Read An Excerpt
Some people say, when a person completes a stretch in a Tennessee correctional facility, they've paid their debt to society. They don't know Noyd LeQuire.
After his release from Brushy Mountain State Prison and a bus ride to Knoxville, a taxi delivered him to the town square in Prospect.
As soon as he rented a single-wide on Doc Beasley Road, it became known as a bad neighborhood and property values dropped drastically.
All that happened just before Thanksgiving.
Four weeks later, I sat double-parked in my unmarked police car outside Prospect Bait & Tackle waiting for Sergeant Bettye Lambert to purchase a Christmas gift for her son.
The city's Department of Buildings and Grounds had once again overdone the holiday decorations with illuminated wreaths on every utility pole, millions of twinkling lights in the bare branches of trees on the town square, and a Christmas tree to rival the monster at Rockefeller Center in front of the municipal building. If the citizens of Prospect didn't know the city's kilowatt-hour meter was spinning at warp speed, they should have.
I looked in the rearview mirror and watched a GMC suburban vacate a spot three car lengths behind me. As the big SUV drove past, I tapped the gear shift into reverse and parallel parked in the vacant spot.
Two minutes later, a twenty-year-old Chevy Caprice slid into a parking spot near the Prospect Citizen's Bank & Trust.
As I looked away from the yellow Caprice, Bettye startled me by opening the back door of the Crown Victoria and tossing in a disassembled fishing rod. Then she jumped into the passenger's seat, next to me.
"Hey," I said. "That was quick."
"I sure hope you're right about what rod and reel to buy for Li'l Donnie."
"Of course I'm right. My friend Richie is a fisherman and he says a Penn reel and Ugly Stik rod is the way to go."
To my left, three car doors slammed. I looked across the street just as a trio of men wearing night-watch caps and rain coats exited the Caprice and headed toward the bank.
"Damn it," I said. "This does not look good. Get on the radio and tell all units we've got a 10-15 in progress at the bank."