Festival of Felonies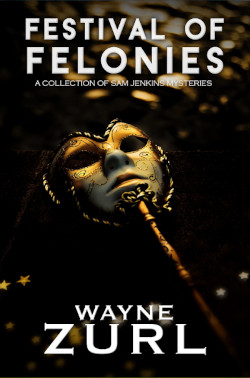 From bizarre animal killings in HAVE YOU CONSIDERED VOODOO? to a grisly death by tomahawk in REENACTING A MURDER; follow veteran cop Sam Jenkins from his days as a young New York squad detective until his second career as a middle-aged police chief in the not-so-quiet Smoky Mountain community of Prospect, Tennessee in the series' fifth anthology of realistic crime fiction.
In other segments of this collection, Jenkins is faced with investigating the aftermath of a mass murder at an elementary school in PAPER TRAIL, with proving one of his officers was justified in taking the life of an unarmed teenager in THE FERGUSON SHOOTING and finally, dealing with a conglomeration of eccentric suspects in one of the more humorous cases of arson he's ever seen in A FIRE AND OLD ICE.
Authentic police work. Quirky characters. New York street smarts versus down home crime. If you like Robert B. Parker's Jesse Stone, you'll love Wayne Zurl's Sam Jenkins.
For more in-depth summaries of each novelette, visit the anthologies sections of this site.
For more in-depth summaries please go to the novelettes section of this site.
Purchase books and eBooks from:
Read An Excerpt
From: PAPER TRAIL, chapter one
Sergeant Stanley Rose scrambled from behind his patrol car and moved clockwise toward the school's rear entrance. When he reached a white Toyota parked near the corner of the building, he rested an Ithaca pump shotgun over the hood, pointing it at the admin office window. POs Junior Huskey and Harley Flatt scurried in the opposite direction until they found cover behind a Ford Fusion and a Chevy pickup. Junior carried a scoped Winchester model 70 and Harley an AR-15. Their khaki uniform shirts contrasted with the darker vehicles; their green trousers blended with the grass. Bobby Crockett and I remained at the side of the school behind my unmarked Crown Victoria, no more than sixty feet from the building. We carefully watched a young man hold the muzzle end of an AK-47 at the head of John Woolford, the assistant principal of the Lamar E. Shields Elementary School in Prospect, Tennessee, a small city generally said to be on the "peaceful side of the Smokies."
In addition to carrying an assault rifle, the grips of two high-capacity semiautomatics protruded from the gunman's waistband. That much firepower turned a skinny kid into a formidable opponent.
I'm not a professional hostage negotiator, but I needed to establish contact and do something to keep the situation from swirling down the toilet. Using my cell phone, I called a landline in the school's office.
Woolford picked up. "Yes?"
"John, Sam Jenkins, Prospect PD. Can I speak to the man with the guns?"
On the other end I heard, "The police chief wants to speak with you."
The young man, who looked to be in his late teens or early twenties, was very thin and dressed all in black. After hearing the message, he pushed Woolford roughly into a chair and grabbed the phone. "What?" he said.
I identified myself and began a dialogue. "Tell me what you want. What can I do to work this out?"
His nostrils flared as he sucked air in through his nose; he took no time to reply. "I already done what I came here for. I got nothin' more to say."
As he dropped the phone onto the desk, I yelled, "Wait!"
Without further ado, he calmly squeezed the trigger of the assault rifle. The muzzle flashed and recoiled slightly, the cracking report was loud enough for us to hear outside the building as one 7.62 x 39 millimeter round travelled through John Woolford's head. The young man showed no emotion, no more feeling for another living thing than if he had cut the head of a fish. For a moment afterwards, he looked out the window. His head turned thirty degrees to the right, then to the left, perhaps searching for the eyes of the last person with whom he spoke.
Who knows what a homicidal individual thinks? I've met plenty and can never figure them out.
The silent radio broke squelch, and Junior said, "I've got a shot."
"Standby," I said. "Let's see what he does."
The young gunman shrugged, turned the rifle, placing the muzzle between his lips, and put a bullet through the top of his head.